Personalized wedding gift pillow cases for bride and groom can be one of the most surprising present ever for the newlyweds!!
There is definitely nothing as beautiful as getting married. It is said to be a union of two hearts. There is beauty, elegance and of course love.
For all those who are getting married it is definitely going to be the celebration time and if you are the one who is invited to be a part of their marital bliss, then surely you should go with a gift which they are going to remember for years to come.
However if you are still struck about the gift for the wedding couples then you should try to choose something different and unique and wedding gift pillows are just the perfect ones.
These are not just beautiful to look at but would definitely be loved by both the bride and the groom.
If you are choosing personalized wedding gift pillows then it is all the more good.
Having a personal touch adds value to the gift. It shows how much effort you have made in gifting them the right kind of present.
In this post have a look at some of the most adorable wedding pillows for gifts which you can get personalized as well.
Thus, get the name of the bride and the groom or a beautiful message written for them and there you are with the Wedding Pillow! Well, that's the beauty of custom made gifts.

Always Kiss Me Goodnight
Mr Right Mrs Always Right
Lips and Mustache
"Always Kiss Me Goodnight Pillowcases" are always a favorite amongst the newlywed couples. After all there is nothing as beautiful as giving a goodnight kiss to your better half.
Then we have the "Mr. Right and Mrs Always Right" which too make a great statement and most loved. I even like the "Lip and Mustache"pillow which looks pretty in red lips and black mustache.
"And they lived happily ever after" is for sure one of the romantic gifts ever and if such pillowcases can be personalized with the name of the bride and groom then all the more good. These are a beautiful reminder to them of the love they have for each other.

Keep Calm Marry On
Keep Calm Be Married
Keep Calm and Marry
Keep Calm Personalized Wedding Gift Pillow Cases
'Keep Calm' is one of the most sought after words in the personalized gifts' world. You can have so many gifts with the tag line 'Keep Calm' so how can the wedding pillows be left behind. I have picked up three of the best pillows.
One is the Keep Calm and Be Married Pillow which is available at personal creations while the other is Keep Calm and Marry On pillow at zazzle. Since both of these are easy to customize you can choose any of these as a gift. The other personalised wedding pillow 'Keep Calm and Marry' is adorable more so because you can add the name of your partner on it.

American Mojo Pillow
Wedding Monogram Pillow
Owls Wedding Pillow
Cute and Romantic Wedding Pillowcases
If you are looking for a romantic quote on wedding pillows then I would recommend you to choose 'Love Quote American MoJo Pillow'. The quote on this pillow reads "all because two people fell in love", isn't it pretty? I liked the two cute little hearts which are made inside the pillow.
Mongoram pillows too will be a nice addition to the gift list. I chose 'Open Hearts – Monogram Pillow' since I liked the various bright colors used in the heart which has your initials in the centre.
Owls are always admired during the wedding ceremony so if you can gift the newly weds pillows with owl image they would adore it. In the Owls Wedding Throw Pillow, I liked the innocence and shyness in the eyes of she owl while the he owl looks smiling. Both appear to be surely made for each other. As you already know you can get it personalized with the name of the couple as well as the wedding date.
Best Personalized Wedding Gift Pillowcases Online
If you are searching for personalized gifts for wedding then I would suggest you have a look at zazzle. It is one of the best websites to look for when it comes to custom made gifts is Zazzle.
It is a print on demand website where you can get your gift customized according to your requirements- you can change the font, color, pick up the size and of course add text and images too.
So, if you want to have wedding pillows, zazzle has the personalized pillows for you. These are beautiful and worth gifting. Here are some more beautiful wedding gift pillowcases for you: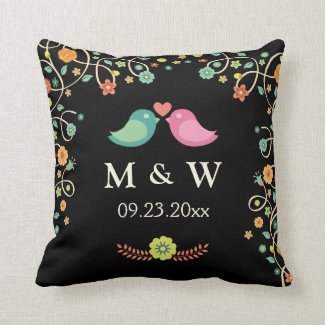 Love Birds Wedding Pillow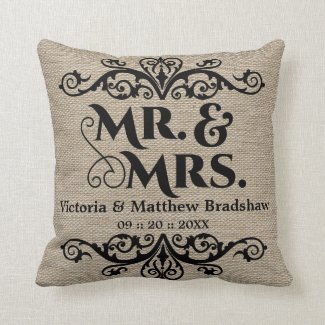 Rustic Burlap Mr Mrs Pillow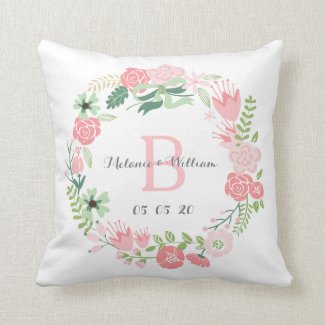 Pink Floral Wreath Pillow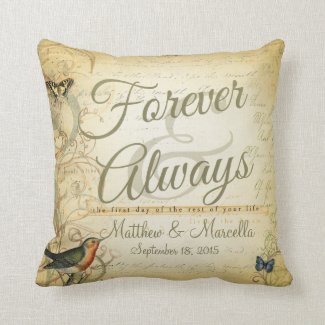 Forever and Always
Tandem Bicycle Pillow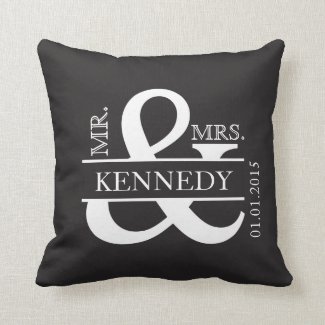 Mr Mrs Monogram Pillow
All these beautiful wedding gift pillowcases are definitely going to be loved and admired by both the bride and groom. After all, they speak of your love towards them.