Picking up the First Birthday Gifts for Wife after Marriage is a somewhat tricky thing.
You know why?
Well, here are some of the most common reasons-
You are still not much aware about your wives likes and dislikes, so you really don't understand what she will love to receive.

You have already given her lots of birthday gifts before wedding, and now you seem to be a bit confused as to what should make a 'different and unique gift' post wedding.

Your wife has almost everything she wants and this leaves you all the more baffled with picking up a gift which will make her happy.
Often, husbands have these questions in mind:
What do I get My Wife for Her Birthday?
Well, here are some of the best birthday gift ideas for your wife, which you will find useful.
Best Gift for Wife on Her First Birthday After Marriage



1. Love Pendant Necklace:
Your wife's birthday is one such big event which gives you the opportunity to show your love to her. So, what's a better way than to gift her a 'love pendant' which says "I Love You to the Moon and Back".
In fact, this can make a great anniversary gift and valentine day gift as well. Check it Out

2. Romantic Poem Framed With Photo:
Let your wife knows how much you love her with this sweet poem which is written on the photo frame.
This poem is one of the best ways to tell her how much lucky you feel to have her in your life.
Another good thing is that you can add her photo too. Thus, it makes a perfect romantic photo frame which will remain always close to her heart. Check it Out
3. Beautiful Floral Dress:
A floral dress never goes out of fashion, it looks beautiful and elegant always. If it is being gifted by the hubby, then of course all the more loved.
This floral dress looks so pretty and has so many options to choose from in terms of design and style.
You have lots of options to choose from like black and red, blue white, pure blue, red and more
She will be mesmerized by this dress. Check it Out
4. Tank Top with Metallic Text:
This tank top is certainly different from others you might see. It is because of the 'gold metallic text' on it. The metallic text gives an amazing look.

So, this can be one of those trendy birthday gifts for your wife.
It has the text 'Best Wife Ever' so it speaks about your feelings for her. You many color options available to choose from. Check it Out

5. Happy Wife Happy Life Coffee Mug:
A sweet looking coffee mug which says 'happy wife happy life'. In fact this is one of the prettiest things to wake upto every day in the morning.
This mug is dishwasher and microwave safe and made from ceramic.Check it Out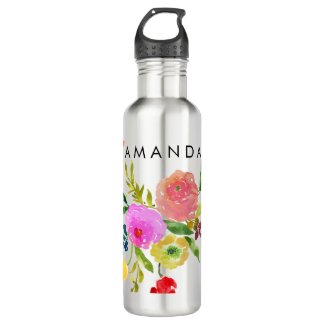 6. Personalized Water Bottle:
If your wife is health conscious or loves to go for walk or running in the morning, then a beautiful water bottle is what she needs.
This is going to be a great birthday gift for her because it is not just the usual kind of bottle, rather it has her name on it.
She will be surprised at this gift for sure. It looks pretty with the floral pattern on it. Check it Out

Cool Birthday Gifts for Wife Who Has Everything
7. Red Roses– Roses never go out of fashion and if you are looking for birthday gifts for wife who has everything, then surprise her a beautiful bouquet of red roses. She will admire them and love them too.
8. A loving birthday card- Yet another simple and elegant way to wish your wife on her birthday is to gift her a beautiful birthday card with a note written by you expressing your love for her and how much special she is for you.
9. Take her out for dinner- If your wife has almost everything, and you are not sure what gift to give her on her first birthday, then just take her out for a romantic dinner. Order everything which she loves and yes don't forget the birthday cake.
10. Perfume- A girl is never bored of perfume, so why not gift her one. Gift her a perfume set which might be the first one for her and she will love it.
11. Surprise Trip- You can take her to a surprise trip like a Dinner Cruise which she might not have expected ever! Just rest and relax and enjoy the cruise along with the delicious food.
12. Let her be Pampered- Every girl loves to be pampered, so why not take gift her a Spa Certificate and let her refresh herself thoroughly.
13. Throw in a party- Yes, a surprise birthday party and make sure it is really really a BIG SECRET. Invite her family or friends who mean a lot to her. She will definitely love it.